I met a lot of people who were opposed to getting a van even after having kids. When I lived in the U.S. I used to hear comments like, "I don't want to be labeled as a soccer mom" or "Vans aren't cool looking."  It's rather funny because once they drive and see the benefits of owning a van people eventually get one.  The van below is the Toyota Estima.  More minivans have been coming out with modern looks and better aerodynamics. Allow me to share with you my personal experience and opinion and share why I think vans are great.
Sliding doors are awesome!  Life is stressful as it is.  The last thing you want to do is worry that you or your child will hit the car next to your's when you open the door.  With a sliding door you won't have to worry about that.  It makes it easier to get your infant, children, grandpa/grandma or anyone in and out of the vehicle in tight parking spaces.  It also makes it easy to put and take out stuff like groceries, furniture and other items.  Plain and simple.  It's ergonomical.  Once on a cold windy day the wind caught the door when my wife opened the front door of our Toyota van.  The door check broke off and left the big dent in on the front end of the door panel.  I'm a DIY kind of guy but fixing the door check was a pain.  Sliding doors can prevent these types of incidents as well.
2. Comfort, comfort and more comfort.  If you have a family and love to go on long trips then owning a van is a no-brainer to me.  If the kids get board put on a movie and wait for them to fall asleep.  We have clients visit us at the Provide Cars office from various countries.  We get groups and some of them can be larger in stature than the average Joe.  The spacious interior makes it a comfortable ride when we take them to the Japanese auto auctions or sight seeing.  Trust me, you don't want to feel crammed after a long flight.
3. I love the space!  Most of us have moved from one place to another.  Having a van makes it easy to transport items you would rather move yourself.  I like to transport expensive electronics or precious items myself.  Some vans allow you to fold the chairs into the floor or lift up to the side.  Also, for those who love to go camping a van allows you to take more stuff!  Although I wouldn't recommend it I have seen people haul their mopeds too.
Nissan Elgrand is a top seller for us.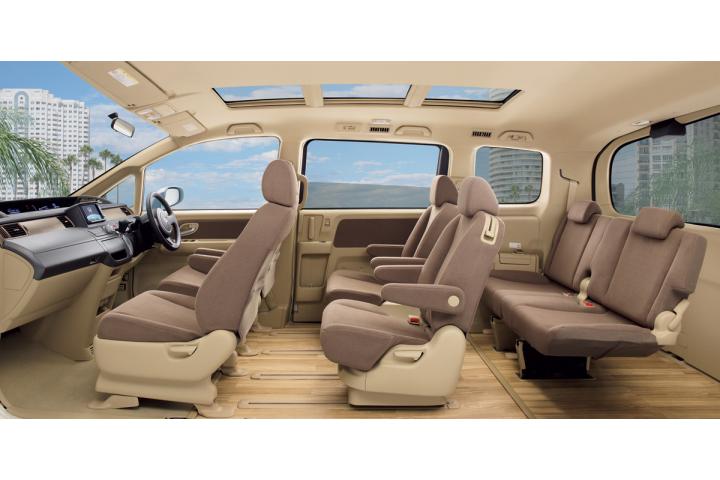 Honda Stepwagon is a great van as well with a nice interior.
If you read my previous blog " Used Car Ranking (Japan)" you may have noticed 5 out of the top 10 popular used cars were vans.  The demand is there and they are not just for soccer moms anymore.  Want to get one?  Check out the Japanese auto auctions through Providecars.co.jp.